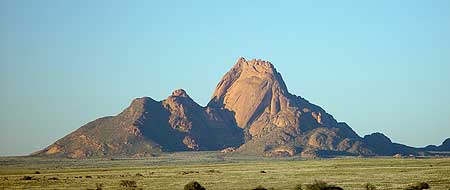 Spitzkoppe, Matterhorn of Namibia
---

Rising from the Namib plain is the Spitzkoppe, popularly known as the Matterhorn of Namibia. It is the home of a number of rock paintings, and its volcanic mountain peaks which reach a height of 1829m is a challenge to mountaineers. The granite outcrop is a typical example of an island mountain. with sheer granite rock walls of up to 600m high (1829m above sea level). The Spitzkoppe is the country's top rock climbing destinations.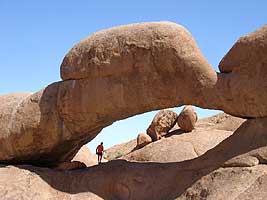 One of the most photographed icons of Namibia. Spectacular sunset's, and granite formations, like the "Bridge".

What can you do?
Guided walks to rock art sites
Hike around the mountain
Go rock climbing (bring own equipment)
Geotreasure at Spitzkoppe: S: 21 49.212 E: 015 09.953
Facilities :
A variety of very secluded campsites.
Toilets and showers near reception
2 Thatched bungalows with basic furniture and external shower & toilet.
Guides.
Price Guide line: Make sure you have correct change.
Camping N$ 10-20 per person/day
Bungalows N$ 80 per bungalow
Guides: Prices on request
Firewood N$ 10 per bundle
Day Visitor N$ 10 per person


The closest town to the Spitzkoppe is Usakos. Only 30km east. Usakos is the ideal overnight for your day trip to the Spitzkoppe, to (or from) Swakopmund/Walfish Bay/Henties Bay/Erongo/Brurnt Mountain. All the services you might require; police, private doctor, OK mini market, butchery, fuel station, post office and bank.

Other attractions in the Usakos area: Ancient rock paintings and engravings. In the Nubeb Mountain on the Farm Mansfield (picture below) strange looking images of people and animals. On the same farm great Marble "pools" with engravings from the early 1900 OEMG railway workers.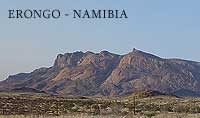 More north the White Elephant in the Phillips Cave. This can only be reached on foot and it takes about 45 minutes from Ameib. There is a picnic spot near the massive boulders known as the Bull's party.

Usakos fountain in town. Usakos is also rich in railway history.







---